The Survivor
From a Night to Remember to the American Dream
An unpublished autobiographical story by Antonio De Girolamo
Excerpts from Chapter 2-Trip to New York & Sea Disaster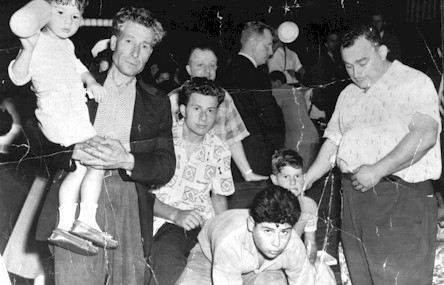 De Girolamo Family: Francesco De Girolamo holding his 4 year old son Biagio. Next to him, sons Antonio, Nicola and Mario. Frank Califano, Francesco's nephew is on the left. Scene at the pier July 27, 1956.

Leaving Ischia
We left Ischia in the early morning of July 17 1956. We woke up very early that morning, it was still very dark outside. About five o'clock we heard our friend, Giuseppe, with his truck downstairs. He had come to pick up our trunks and suitcases and take them to the ferry at the Port of Ischia. We were getting dressed when my father opened the balcony's wooden blinds, and sure enough Giuseppe and two helpers where waiting to get the 0K to come upstairs and start loading the trunks on the truck. My father came inside the house for a minute and said, "Is everybody getting dressed? Giuseppe is here." My mother was in the bathroom and as she came out she said, "Its OK Cicci (Frank). He came and picked up the suitcases already by the door and hallway". While we got dressed, I went out on the balcony with my dad as he motioned Giuseppe to come upstairs and to start the loading of the trunks and boxes. The night before we had finished packing a few last things, and had just the clothing and a few carry on shoulder bags. We all were to have our own bag, also for Mario and Gino.
Giuseppe had practically begged my dad to carry our luggage and trunks to the ferry and was not going to charge us for the transfer, because of our friendship. He looked sad as he came upstairs, as I opened the door he looked straight into my eyes and said to me, "Tonio you guys are really leaving Ischia?" "I think so", I said to him. "We got to get to the ferry that leaves at eight o'clock and that's it Giuseppe." He put his arms around me and said, "Mastro Ciccio will be missed." "That's not true Giuseppe." I said, " someone else will come along, another blacksmith and welder, and you guys will forget all about us". "No way", he replied," they are already missing your dad", (meaning our shop). Giuseppe started to pick up two suitcases to take downstairs, as I went inside the house to finish getting dressed. Everyone seemed to be ready, my mother was dressing my little brother Biagio (Gino ), he was about three and half years old with a cute little round face like a peach and chubby looking. My brother Mario was like a string bean slim and long, my mother had dressed them in something like sailors suits, they really looked cute. Mario was born in 1947, he was almost nine years old. Nicola was 14. I was 17 and my sister Maria Rosaria 18 years old.
We left the apartment just about a few minutes before seven am. Pierino Di Meglio, my dad's closest friend picked us up with his Mercedes Taxi. Giuseppe and the luggage had already left for Porto D'Ischia, the trip to the port was less than ten minutes. We got to Porto D'Ischia little after 7:30 AM, we met my two uncles there, Antonio and Mario De Girolamo. Uncle Monsignor had already purchased all the ferry tickets and the luggage fee for the transfer to Naples. Giuseppe Trani was still unloading our stuff from his truck, while port longshoremen, baggage handlers were taking them to the stern of the ferry.

The Ferry to Naples
A few minutes before eight am, the Ferry let a long horn blast announcing her departure, last good-byes and hugs on the pier, and we walked on the moving bridge and on stern of the ferry. Another horn blast longer than the first one and we could still see several passengers purchasing the last tickets at the ticket booth. A few more tickets and the attendant closed the front window, a few guys with briefcases running to the moving bridge, which was already pulling away from the pier, the clicking of the anchor chain was very loud. The Ischia had taken onboard the last passengers and was headed for the mainland, while handkerchiefs were visible on the pier, one last look at the Church of Portosalvo, that my great-grandfather had built, and a few of us made the sign of the cross, we always did that every time we went to Naples, and we were on our way. The stern of the ferry started to shake violently and the engines were rumbling, a large white foam came out behind us and the ferry started to pick up speed, we could still hear the chain of the anchor scratching the ferry's steel hull, and with one last big rumble, the anchor had been pulled into the bow hole and out of the water. The ferry slowly exited the Port of Ischia into the open water of the Tirrenian Sea, the narrower part of the Port was between the Pagoda Gardens on the left side and the Ischian Shipyard on the right. As the Ischia ferry got into the open sea it let out a long horn blast, announcing the increasing of her speed into the open water. It was a very sad and nostalgic moment for all of us looking at the coast of the island from the lido, all the the way to the Castello and our house right there in the middle of the buildings next to the Cathedral of Ischia, at other times when we went to Naples, we would have to come back after spending the day shopping there, now we were going to another world, New York, and looking at the Ischia Ponte township for the last time. As the ferry passed by the Castello headed for Naples, there must have been about twenty or thirty friends of ours on their balcony waving white handkerchiefs, we knew they were saying goodbye to us for the last time, every morning we went out on the veranda watching the ferries passing going to Naples, this time our friends were saying good luck to us leaving Ischia, my mother and my sister seeing the white spots moving on the balconies, cried loudly, my mother was leaving her sister Angelina behind, her only sister or relatives in Ischia. My sister was leaving her boyfriend, Gianni Sasso, and who knew when they would have seen each other again. The ferry Ischia had almost reached the beautiful coast of Naples and all the houses by the sea at Posillipo and Santa Lucia, with all the fishing boats was a real post card view. Every time we went to Naples we enjoyed that magnificent view as we passed by with the ferry, this was the only way to Naples coming from Ischia. As the ferry started to make a very wide right turn , we got farther and farther from the coast in order to enter the Port of Naples, we reached the calm water protected by a huge round wall of concrete, with the lighthouses on top and slowed our speed down proceeding toward the Molo Beverello, the ferry let out a long horn blast announcing its arrival, and put her engines in reverse, started to make a 160 degree turn, backing up with her stern to the Port. This was a precision maneuver every morning, we were about to dock between two other ferries from the same Company, S.P.A.N., one with a sign Saying VENTOTENE the other one said CAPRI, those were the Ferries going.to the other Islands of the gulf of Naples. On the left side of the Molo Beverello looking from the sea toward the port, there were about 20 American Navy ships. Naples was where the American Mediterranean Navy fleet was located, there was a large aircraft carrier, with numerous destroyers, and other ships all around, the aircraft was anchored away from the coast in the middle of,the sea, while all the other small ships were anchored ashore, there were also two submarines, and sailors everywhere washing the ships deck in morning hours. On the right side as we docked there was the beautiful black and white Andrea Doria waiting to take us to New York. The International Pier at Naples was on the other side of a tall steel fence separating the two sides of the Port, there was also a smaller all white ship, the Conte Biancamano, which was going to south America, Venezuela and Argentina, taking Italian immigrants to that part of the world.

Embarkation
We started to walk toward the International Pier, to reach it you had to go out on the main street exiting the Molo Beverello port fenced area, walk right going toward the MASCHIO ANGIOINO, the Naples King Palace, then re-enter in the International Gate. The fence by the gate curved in on both side making the entrance to the pier a much wider area, with parking, and for temporary parking for loading and unloading. The beautiful Andrea Doria was in front of us, we were about to go onboard in less than an hour. We showed our documents to the gate guard, and they were all in order. He issued temporary passes for my two uncles and stuck them to their coat, Vincenzo with the luggage was in front of us waiting, he had another guy with him a port worker that helped him pushed the heavy cart, they went to have the luggage tagged and placed them on the Andrea Doria conveyer belt going onboard ship. My Father needed to identify all the luggage with the Customhouse personnel, verify the tags, and tear off the bottom of the tags for us with the numbers. The luggage was cleared to go onboard, Vincenzo and his friend loaded them on the conveyor belt.

We went through the passport checking and stamping by both Italian and American Officials, and few minutes later we all went onboard. We had assigned to us Cabins # 450 and # 478 on the * B * Deck of the Andrea Doria, according to the brochure was sent to Ischia, the # 450 Cabin was a large cabin located little farther to the bow of midship, with two portholes looking at the sea, this was the guy's cabin for all five of us, the other Cabin # 478, was a smaller cabin a little farther down the corridor on our left side, with no view of the Ocean, it was in the middle, a cabin for two, for my mother and my sister. Our cabin was very spacious, and at night time the cabin stewards lifted two beds which hung vertically during the day time, making them bunkbeds for my two kid brothers, sleeping above us.

Soon after we walked onboard we were welcomed by several crewmen, we were given all kinds of pamphlets, booklets, and a daily itinerary to follow. We were also handed four sets of keys, two for each cabin, my mother and my sister Maria, both had a set each while for out cabin # 450, my father gave me the other set, and told me not to loose them. It was about 1:30 in the afternoon and without looking at the dining room menu, we asked what time lunch was served, we were all starved. They told us at 2:00 P.M., a buffet dinner spread was being prepared. We decided to find the cabins first and then for all of us, including my uncles, to go to lunch. My uncles were allowed to stay with us until 4:P.M., then all visitors and relatives had to leave the ship for sailing preparations. We got to midship in a beautiful atrium staircase with beautiful mirrors and plants, and pictures on the walls, it was the Foyer Deck. We needed to take the elevator to PONTE * B * DECK, which was located just few feet above the ships water line. We took the elevator down two flights and arrived at PONTE *B *, we walked toward the bow of the ship and found Cabin # 450 right away. We were anxious to see it, I was at the door faster than anyone else, l opened the door and all of us went in. My uncle Antonio was surprised of the size. He put his hand in his pocked, took out his Rosary and put it on the bolt of the porthole, and with his hand made the sign of cross, blessing the cabin. A few handbags were already in the cabin, the yellow tags on them were very visible. We left cabin # 450 and went to find the other one. Walking ahead the corridor turned left, and right in midship there were two cabins on each side on the corridor, # 478 was the second cabin after the turn, the corridor then proceeded left, and made a right turn and we were on the left side of the Andrea Doria.

We went into my mother's cabin and it had two beds, one long way and the other across, like a couch set up. It had a small desk, and a small bath and shower, but no view of the ocean. "It's OK" my mother said, "lets go eat, I'm hungry", we looked around for a few more minutes and the corridor traffic increased, with passengers finding their cabins.

Pre-Departure Lunch
We locked the two cabins and walked back about 150 feet to find the stairs in midship taking us up to the dining room for the 2:00 P.M. luncheon. We went up three short flights and found a few crewman. When we asked one of them where the dining room was, we didn't realize that he was standing right at the entrance of it. He said, " we will open in few minutes", it was a few minutes before two. As the doors opened we walked in, my Dad said the De Girolamos, one of the four waiters with white coats stepped forward and escorted us to table # 10, this was the table assigned to us for the entire trip to New York. He called on another waiter with a blue jacket and told him the De Girolamo's are here for table #10. Another gentleman with a black suit and black bow tie walked toward our table, he was the Maitre d'Hotel in charge of the entire dining room. The waiter with the white coats, six of them, were in charge of several table, a section of the dining area. Mario, with the blue coat was our waiter for the trip, a younger guy with the same blue coat but with different color bars on the coat shoulders was his busboy. Mario was from Avellino, and his busboy, Vincenzo, was from Reggio Calabria. We all sat down at table #10 and they brought two extra chairs and silverware for my uncles.
The table was a round table big enough for ten people, but it was set up for seven and had a sign in the middle of it with De Girolamo written on it, and a beautiful bouquet of carnations of several colors. Mario asked us if we wanted to order from the menu or if we wanted to help ourselves at the buffet table, which was prepared on the end on the dining area. We looked at each other for few seconds and decided for the buffet. "Follow me", he said and took us to the buffet table. He showed us where the line was on the right side, and where the plates were stacked up. He said "help yourselves, and !'I'll be back at your table for beverages and a champagne toast after lunch". That was the first time for all of us to see so much food to grab from, the only buffet that we were familiar with in Ischia is when someone got married. We looked at each other like we were lost, and started, to pile up all kinds of food on the large rectangular plate, salads, pasta, chicken cacciatore, fillet of fish, vegetables, rice, and all kind of other entrees. On the left side of the buffet table were the sweets, beautiful decorated cakes and miniature pastries, cannoli, sfogliatelle, baba'o rum, and all kinds of cookies. My brother, Nicola, put some pastries on top of the food and my mother yelled at him, "you airways got be a pig right?" She called him PORCO in Italian, took the pastries off his place and put them back in the tray. "We will come back for sweets later she said", I was thinking of grabbing a little cannoli too, but I changed my mind and walked toward our table. Mario and Vincenzo where both there waiting for us, they had bottles of wine ready and mineral water. My sister Maria wanted a Coca Cola, and my kid brother Gino had a water glass in his hands, and spilled water all over him. My mother dried him off with a table napkin, and she was really mad and almost slapped him. We ate a lot, the food was good and we talked about the trip with my uncles.
Looking at ships itineraries, and programs. There was lot to do during the entire day including breakfast, lunch and dinner. Three visits to the dining room, Food, Food, Food. In Ischia we had a sandwich at noon and dinner around six P.M. when we closed the shop, generally it was a one course meal, with either salad on the side, or French Fries (PATATINE FRITTE) we call them, and fruits. On Sundays it was a larger meal with always pastries at the end, it was customary in town to have pastries almost every Sunday. We went to Mass either 11:00 or Noon Mass, and dinner right after about 1:00 P.M. Then we usually walked back to my grandparents house and visit with them for several hours. All this food on the Andrea Doria was going to be like party time all the time. We finished eating about 3:30 P.M., chatted with Mario and Vincenzo, our waiters, for long time. Ciro was the head waiter and he was from Torre Del Greco, a city outside Naples, he was going from table to table in his section, and stopped over at our table several time to see if everything was OK. My uncle Antonio and Mario, told him to take care of us on the trip, he assured them of the service they had onboard, and were going to make our trip very pleasant.

Leaving Naples
My uncles had to disembark the Andrea Doria in fifteen minutes, it was almost a quarter to four. We all walked from the dining room to the Foyer Deck to see them off the ship. We hugged each other for long time, just until the Andrea Doria let a long horn blast sound off to announce her departure, but the four o'clock sounding was to announce that all visitors and relatives of the passengers had to leave ship. My father hugged my uncles for the last time, you could see tears in his eyes. They walked off the ship, a few last waving of handkerchiefs and they were gone.
We walked back from the deck area, and headed to our cabins to set up our clothing in the proper drawers. The next few hours went very fast, because we heard three long horn blasts and realized we were moving away from the dock area into the open sea. We were on our way to New York for the seven day voyage. Two large tugboats were on our side pulling the Andrea Doria into open water until we were outside the port of Naples. At this time we felt a strong vibration, the Andrea Doria had started her engines. As the tugboats left and returned to the Port, another very long horn blast. It was about 15 minutes after 6:00 P.M., we had left the dock on time at the 6:00 P.M. scheduled departure. My sister, Maria, reminded us to go up on deck and get a last look at our island as the Andrea Doria passed between Capri and Ischia. We went on deck, by the pool area on the right side of the ship above our cabins. We started to see the Castello on the right side of the ship, Capri was on our left. It was a beautiful summer evening, still plenty of sun light and very clear. "There is Ischia", someone yelled out loud. Now you could see the Castello and the Ischia Ponte Section where we lived. In minutes it would disappear behind us for the last time as we headed for the open Tirrenian Sea toward Gibraltar, our first sighting of land again.

Bon Voyage Dinner
We returned to our cabins to change clothes and get ready for dinner time, the dining room had two seating times one at 6:30 and the second at 8:00 P.M. We had the second sitting. When we returned to the dining room it had already been opened for us and we sat down at out table. Mario and Vincenzo were there at their station waiting for us. Vincenzo started to fill up the water glasses, and set up the silverware next to the plates, went to the kitchen and came back with a large basket of rolls. With tongs he placed one roll into the little plates then he placed the rest of the rolls in the middle of the table, moving the flower vase to one side. Mario handed us the menus and said "I'll be back for your order in few minutes". My Father decided to order pasta for all of us, chicken with potatoes on the side, salads for everyone, and few different kind of vegetables. We had to dress semi- formal with a suit and tie. It was the Bon Voyage dinner, and the dining room was beautifully decorated with checkered tablecloths, and white table napkins with Carnations on every table and champagne glasses like at the lunch seating. We had a great dinner, and were all stuffed. Vincenzo was removing the plates as we finished eating. Mario came with a huge platter of Neapolitan Pastries, they looked really good. Vincenzo placed clean plates in front of us, as we started one by one to pick our favorite delights. We got several bad looks from mom and dad, but Mario didn't leave to go to the next table until we all got plenty of pastries and with a smiling look, assured us kids that it was OK to pick as many as we wanted to. We all had at least three pieces each, while my father had picked just one. Then he was looking into my plate, Mario let him pick few more pieces to take to our cabin for later. Vincenzo started to bring expresso coffee, and Cappuccinos. My sister loved Cappuccino full of milk, I liked expresso coffee, and I liked it bitter. Many times I didn't even put sugar in it, I just loved the taste of strong coffee. Gino had his mouth on a cream puff and he had cream all over his face, my mother wiped him off laughing. She also had few pieces of pastries to take back to her cabin, we really ate like an Ischian Sunday dinner and lot more.

The Sergio Family
Next to us on table # 11 there was another large family with many small children, our side of the dining room was with all large tables. We started a conversation between us and I was talking to a guy my age. His name was Tony also, we realized that we had Tony and Maria in both families. Their last name was Sergio and the more we talked to each other the more it became very pleasant. We found out the many things we had in common. Tony was a soccer player like me, my father was a mechanic blacksmith, his father was a shoemaker, we were from Ischia they were from Calabria, we were going to New York, they were going to South Bend, Indiana, we were one family with five children, they were two families, two brothers with their children. The older brother, Paul, was actually returning home to South Bend, Indiana where he had a shoe repair shop near the campus of Notre Dame University. His younger brother had married his wife's sister, and they had four children coming to America for the first time like us. Paul had gone to Italy on vacation with his family, while his brother Rosario had gone to pick up Maria his wife, and his four children bringing them from Calabria to South Bend Indiana. Two brothers married to two sisters all sitting on the same table. We heard names like Rocco, Giuseppe, Joe, Margaret, and Anna Maria, but we were a little older then some of their kids. There were a few teenagers and the rest were less than ten years old, one family was right below us on the C Deck, the one in the 800 numbers which was more on the back side of the ship, and closer to the pool area. We were closer to the midship elevators, while they had to go down to the C Deck and walk back quite a distance, but we had made friends right away, and we were all smiling when we returned to our respective cabins.

The Lifeboat Drill
It was our first night, the water of the Mediterranean Sea was very calm, we were going to Gibraltar and then to the Atlantic Ocean. We went to bed that night with instructions that the next morning at 7:00 o'clock we would have been awaken by loud horn blast and we were to report to the different muster stations of the ship for the lifejacket drill. We were all already awake when we heard the loudspeaker announce we were to report to the Foyer Deck Ballroom, this was our Muster Station. There were other stations on other Decks, but we had to report there at 7:30 sharp. We got dressed, picked up our lifejackets, one for each of us, and started to walk upstairs to the Ballroom area. When we got there, people everywhere, seated and against the walls, an Officer of the ship, in white shirt and gold bars on his shoulder said, "Lets give it few more minutes, at 7:45 sharp a recorded announcement will play with the instructions on what to do in case of abandoning ship". He said it in English first then in Italian. Many of us already had our lifejackets on and tied secured. He told us to take it off and hold it on left side and proceed with the loudspeakers instruction step by step as the message instructs you. Sure enough at 7:45 there was a long whistle and the beginning of the message that began with, "ATTENTION ALL PASSENGERS ( ATTENZIONE PER TUTTI I PASSEGGERI )" the instruction were very slow and clear for all of us to understand, it took about 20 minutes for the entire drill, followed by a short silence then the loudspeaker said, "Breakfast is served in all the dining rooms in few minutes". The drill was over and many of us were laughing at each other wearing that ugly yellow thing, but that was the law of the Sea, and we had to do it! We left the Ballroom and went down below to put back the lifejackets in the storage areas below our beds and all together went to breakfast.

Breakfast, First day out
Our first morning breakfast on the Andrea Doria, now it began to feel that we were being taken care of. Mario and Vincenzo were there already waiting for us to sit us at our table. Vincenzo, the busboy, had already put a large basket of sweet rolls in the center of the table. Mario handed out our menus and one by one we started to order. At breakfast we talked about taking a full tour of the ship's area we were allowed to visit, place by place, we wanted to see where the theater was located, the chapel my mother wanted to visit, and later in the afternoon we were talking of going to the pool. At breakfast we started to talk to other families seated by our table, and we all spoke the same dialect, there were few other families from the Campania Region, from Avellino and Caserta. All farmers, one family was going to New Jersey, another to Pennsylvania, all seated next to us. You could hear the same dialect in half of the dining room. We left the dining room about10:00 in the morning we passed the day looking at places everywhere.

Gibraltar
The next morning we arrived at Gibraltar, it was a beautiful sunny day, I remember the Andrea Doria slowing down to a stop. Then the crackling of the chain and the lowering of an anchor was clearly heard, we were about two miles off shore, the majestic Rock of Gibraltar there in front of us, people taking pictures everywhere, we didn't know how long we would have been stopped there, when from the.village ahead of us on the mainland, about ten or more little boats came toward us, some faster than others, they all broadsided the Andrea Doria in about fifteen minutes, they were vendors selling all kinds goodies from watches to perfume, to blankets and T shirts. Crewman were helping passengers lower baskets to the little boats, the merchandise put in the baskets and pulled up, a price was yelled from below, if the passenger agreed on the price they took the items and lowered the vendor the money. If not interested, the item was lowered back by the Andrea Doria crewman. It was a Market at Sea, several people purchased items, I guess it was a regular stop at Gibraltar for the ships to stop and allow the vendors to broadside the liners passing through.
We were stopped there about an hour, then the Andrea Doria let a long horn blast signaling that the market was over and we were about to sail the open Atlantic Ocean, last call and last few screams from vendors trying to make the last sale, and one by one they started to head to shore. The crackling of the chain pulling up the anchor was heard again, than a big rumble and loud noise when the anchor finally lodged herself into the bow. The engines were started and speed increased, and we were moving again toward the opening of the Gibraltar strait and out to Sea. To us it was a first, we had never seen a market at sea, I took few pictures with my little camera and I also took few pictures of all of us with the Rock of Gibraltar, behind us. I asked another passenger to snap one picture of the entire family, myself included.

The Azores and the Crossing
As we headed to the open sea the Andrea Doria let out three long horn blasts, the village on our right side was about to disappear out of our sight little by little, we were in the Atlantic Ocean. The next sighting of land before we reached the Port of New York with the Statue of Liberty was the Azores Island in the middle of the Atlantic Ocean. We were about little more that a day away from it, cruising at full speed ahead, the sea was very calm. The afternoon was very hot, it was in the middle of the summer and we got to know the playing areas on the ships well. A billiardino soccer game in the lounge was the favorite spot for many of us. It took four players to play it and there was always a waiting line of teenagers, another game in the lounge that was always occupied was a bowling game, this took only one player at the time and you could never get it to play.
We arrived at the Azores Island in the middle of the afternoon, several announcements on the loudspeakers that we would pass by the island in little more than an hour. Everyone got their cameras out and started to go on deck. We started to see land ahead about three o'clock in the afternoon. As we got closer to the Azores, the Andrea Doria slowed down her engines, we were now moving slowly and were about to pass between two of the larger islands. We saw a large town on our right with many fishing boats, on our left about two miles away the island looked uninhabited, just a huge rock with some vegetation. There was probably no one living there. In all, we saw land for about fifteen minutes, and then we left them behind us while the engines rumbled at full speed ahead. Four more days of open Atlantic Ocean and it would have been New York, the next morning the weather started to get a little overcast with winds about 20 miles an hour and increasing. The Andrea Doria started to pitch and roll into the waves, my mother got real sick and needed to get the doctors attention. Even with some pills, it was hard to get use to, and no one said anything about how long and how bad the weather was ahead of us. We have always heard of bad seas in the Atlantic, especially in the winter months, but this was July. The ocean is always full of surprises. The dining room was deserted, and very few had dinner , the ship was rocking pretty good and was hard to stay straight.
The next day the same. Now the bow of the Andrea Doria was not quite disappearing into the waves, the water was spraying a few decks above the bow. From the observation lounge below the command deck, the windows were all wet. It was hard to sleep for few nights, until it calmed down considerably. We were now a few days from New York and already people were crowding the pursers Office. My father had checked in a large pouch with many gold items, documents, and about four and a half million lire, about $4500.00. In 1956 the exchange was about $1000.00 lire per dollar.

The Fog
We were scheduled to arrive in New York on Thursday morning July 26, Saint Ann's Day. My mother's name Saint, but we were told that we were slowing down our speed a little because of the very intense fog. The sea was somewhat less agitated but you couldn't see a thing thirty feet away. Wednesday morning as we woke up we heard loud and long horn blasts, every hour or less, we were told of the intense fog and we were doing between 18 and 19 knots instead of the full 23 knots. We went to breakfast that morning, and we talked about beating the crowd to the Purser's Office and not to wait until late afternoon. We did just that about a little after ten. We got in line at the desk, and there must have been about eight or nine passengers ahead of us. My mother and my sister with Mario and Gino had returned to the cabin. There were three of us, my dad, myself and my brother Nicola. We got to the desk and signed a release for the contents of the safe box. We relinquished the key, put everything in the shoulder bag my dad had brought with him and started to head for the stairs to walk down to Deck A and our cabins. We got to the B Deck and we ran into Maria Sergio and Antonio, she asked my dad that we had not seen each other in the dining room for two days. We told her that my mother got real sea sick and we had food delivered to our cabins all day Monday and Tuesday, but since she felt a lot better we will probably see you for lunch today.
The Ocean had calmed down and the ship was not rolling heavily, but the fog horn blasts have been keeping me up all night my father told her. "Yes Francesco", Maria said, "we are scared that something can happen, where did you go? My father replied, "we went to the Purser's Office to take out our belongings and to get ready for our arrival in New York tomorrow, by the way", my father continued, "did you guys hear that instead of 7:00 am we can be as late as 11:00 am?" "Yes we know", she replied, " but we don't care as long as we get there safe. "I'm going to tell Paul to get the stuff out of the Purser's Office too and beat the crowd tonight.
We got to our cabin, my mother and my sister were watching Mario and Gino. She took the shoulder bag from my dad and put all the things on one of the beds, everything was there, the large roll of the Italian money,and about $600.00 in American money which he had gotten from Guido Castagna in Ischia.
It was about one o'clock in the afternoon and at one thirty was our lunch sitting, we had the second sitting in the dining room at all the three meal times. The two shifts of passengers met outside in the lounge every day, one sitting coming out and the other going in. My mother was hungry, she said "lets go for lunch, then we come back to the cabins and set up all the clothes for tomorrow, putting all the used and dirty clothes in plastic bags, and on the bottom of the three suitcases". "OK lets go eat", I said, I put the sign outside the cabin "DO NOT DISTURB", lock the money and jewelry in the cabin's safe, and we will take care of it after lunch. All of us went to the dining room for lunch, as we got there it was already a quarter to two, Mario and Vincenzo were no longer expecting us because we had been very punctual at other times, they were surprised to see us, and immediately asked my mother if she was feeling a little better. She said "yes grazie (Thank you), and I'm hungry. All of us one after the other said, me too, me too, me too. My father asked Mario if he had any news of the fog getting better or worse, he said that on his last two trips with the ship in the same location there was always fog. Because of the Canadian cold wind blowing down, meeting the hot currents of the East Coast of the United States, and as he was explaining the fog horn blasted again and again few times.
We had a good lunch, the Sergios next to us at table 11 were almost all there, and we started talking to each other, to exchange addresses, so we could write to each other and maybe visit each other someday. We left the dining room before they did, my father was anxious to straighten out all our things for the next day arrival in New York. We got to our cabin about 30 minutes later, we encountered a few of our friend passengers along the way, and everyone seemed to be doing the same thing, prepare for New York.
We had been on the Andrea Doria for six and a half days and it was time to get off. We got all our things in order in about an hour, we all picked pants and shirts for our arrival, and placed them on the top in the three suitcases. The only thing to do next morning, was to shower, take the dirty clothes and put them in the plastic bags and that was it. My father took the dollars and about 200.000 lire in small Italian bills, folded them up and put them in his left pants pocket, with his wallet in the rear pocket. None of us had any money with us since we didn't need any, my father was holding everything. When we would get to New York everyone would take possession of his things.
The P.A. announcements on the loudspeaker continued every so often, it was always the same voice, probably First Officer Giannini, he kept on telling us not to be afraid of the fog and everything was OK.

Collision
The evening was prepared for parties everywhere, a show in the main Ballroom and dancing in the lounge, also the theater was open for the children, they were showing a Walt Disney Cartoon Film, my brother Mario and Gino wanted to go, my sister Maria was going to take them. We were going to meet the Sergio Family in the Social Hall of the tourist class, they were going to get together and sing, with few musical instruments they had. They had a good time dancing with them for almost two hours and just about 10:30 P.M. the party broke off, and we returned to our cabins. "We'll see you tomorrow in New York", my father said, we went downstairs while they had to walk all the way to the back of the ship to their cabin on C Deck. We took mom and Maria to their cabin to their cabin #478 and returned to our cabin #450 and went to bed, we were all ready for arrival in New York to reunite with my Aunt Raffaella, my uncle Gaetano and our cousins.
All of a sudden the Andrea Doria shook violently like in an earthquake. My father and myself were still awake, the Andrea Doria continued to shake for several minutes. "Santa vergine" my father said, "siamo andati sugli scogli ( Holy virgin, we have hit the rocks)". "Dad, what rocks", I said "we are in the middle of the ocean". I looked outside the port hole and screamed, "Dad, there are lights out there, it looks like another ship. We have hit another ship". My brother Nicola woke up and said, "what happened?" I don't know, but wake up Mario and Gino and get ready to get out of here" I said.
"Tonio!", my father screamed again, "Go call your mother and your sister, bring them over here", "OK Dad", "Hurry up he said". "Ok Dad", I answered again. I went out in the corridor and there were people everywhere, I pushed myself through to get to my mother's cabin, "let me get through", I yelled "I got to go to my mother's cabin". I finally reached her cabin, she looked at me and said, " what happened!!" "I don't know mom, but lets get out of here and go to our cabin and stay all together. We locked the cabin.and pushed ourselves trough to our cabin. "We got hit by another ship" someone said, "its right there on our right side, it was just few cabins ahead of us, there must be a lot of dead people there" he said. I saw the lights and I say to him "we are in cabin #450, and I could see lights in the fog out there. We were about to reach our cabin when we saw water in the corridor. As we reached our cabin, my father and my mother hugged each other, and said "Anna lets grab the kids and go in the open upstairs". My father had slipped on his pants, my mother and my sister in night gowns with a blanket in their hands, we grabbed two sweaters and a pair of shorts and left the cabin. As we went into the corridor people were screaming "we are sinking, we are sinking, there is a lot of water ahead and its coming this way." " Lets get out of here", someone else yelled "lets get out of here", and started to push real hard, people pushing each other so hard.
We were not far away from the central ship staircase. The lights went out for about few seconds, "Santa Maria, Vergine Santa", everyone called out. "Don't worry, stay calm, we are by the stairs and going up" someone else yelled out. In the mean time, our feet were in the water as the corridor water level was rising fast, we pushed mom and Maria ahead, they were holding Gino. Mario was with me, I had my hand so tight on his that he was complaining it hurt. My father and Nicola right behind me. We reached the stairs and started to go up, we were pushing each other and as we got to Deck A we heard a loudspeaker announcement, for everyone to grab their life jackets and go on Deck immediately. We didn't have the jackets, we got out of our cabins without them. The light went out again for almost a minute this time, it seemed like an eternity. The loudspeaker again said that emergency generators were being fired up on deck and not to worry. As he was still speaking, the lights came on again, this time it was brighter and stronger, we got to the top deck 20 minutes later.
As we were looking at each other, holding hands and staying together the Andrea Doria s started to list heavily on her right side, we had to hold on the railing on the top side. We were told that a Swedish Ship had hit us on our starboard side and the engine rooms were under water and the ship's power doomed. "My God I can't believe this", one of the nuns on the deck said , started to get our attention, to recite the Rosary. "We got hit little after 11:10 P.M.", someone said, "I know", I answered. "I was still awake, it was 11:15, it was an hour ago". Looking into the fog we didn't see the lights of the other ship anymore and when the Andrea Doria started to list when the Stockholm pulled back and unlodged herself from the Andrea Doria's right side. The S.O.S. had gone out and they told us there were seven ships coming from different directions, we heard a helicopter circling above and then leaving. It was very dark, the generator on the deck of the ship was making a loud noise, people could hear each other. My mother got very hysterical, my dad tried to calm her down, but she cried loudly. The lifeboats on our right side were gone, they were already in the water while the eight on our left side were still there, they couldn't lower them anymore. We were all together, clutched at each other, half naked, we were still in our underwear with blankets wrapped around us. It was not very cold, but in the early morning hours in the middle of the ocean with no clothes on, it was cold. We started to help each other move around, holding hands.
Crewmen of the Andrea Doria started to tie ropes from one side of the ship to the other through the railing like clothes line. I went out with few other guys to help out, my father yelled out, "Tonio come back here". I said " don't worry dad, I'm right here." As I said that, a priest let go of the railing and slid to the other side very hard, breaking his leg. We were listing to our right more and more, we were told to stay on the top side, and not to go on the lower side, there were still passengers coming up from below. It's a hell down there and there is still a lot of people!!! We had no idea how many people died in the twisted steel, but there were people that never had chance. Then the loudspeaker said the Ile de France, a large French ship, was two hours away from us while the Cape Ann was already out there in the fog. By that time, about three o' clock in the morning, a Navy ship had come out from the Boston Harbor and was all around us.

Rescue and Separation
The fog started to lift a little bit and we could see many lifeboats, they were waiting for Captain Calamai's decision to begin to get the passengers off the ship. The Ile de France was less than a mile from us with 20 or more lifeboats waiting to pick us up. From the top side of the Andrea Doria we were looking at crewman tie numerous ropes every foot of the railing and throw them over the side of the ship. We had to be lowered into the lifeboats by those ropes or the ladders that the crewman tied over the side. We were still clutching each other, holding each other tight, staying all together, that when our time came we could get into the same.boat. The panic began when we started to see people go on the lower side of the ship on their own and without orders. Someone screamed out loud, "Hey there is a lifeboat full of white jackets down there, passengers are first." He should never had said that because everyone started to really panic, and the few Officers in charge on the Deck could not hold us any longer. Many crewman were seen leaving the Andrea Doria before us, and not help the passengers get off first.
We again were told by the loudspeaker to stay calm and we will all be off the ship soon. There was a large crewman on deck with his gray pants and white T shirt, he must have been close to 300 pounds, he was a Machinist and had made it to the top of the ship. He told us that many died in the engine room instantly and he didn't know how he got out. "The ice breaker bow of the Stockholm had cut into the belly of the Andrea Doria like a butter knife, killing everyone in their sleep down there", he said. Still several Priests and Nuns on deck urged us to Pray out loud. Another recital of the Rosary started and we responded by praying with the Nuns. "Ave Maria piena di grazie (Hail Mary full of grace) the priests began and we responded "Santa Maria madre di Dio (Holy Mary mother of God) and so on, over and over holding each other.
It was about three o'clock in the morning, when passengers started to be helped off the ship, 20 and 30 at a.time. We were told to get to the lower side of the Andrea Doria in groups. "Donne e bambini prima" someone shouted "Women and children first". There were many elderly passengers being helped by other passengers, the crewmen were doing very little, just shouting and trying to get off the ship themselves. Within about 30 minutes, a large portion of the passengers had left. Then two crewman came toward us pulling my mother and my sister away from us, she got real hysterical. "Cicci", she yelled, "Cicci". "Anna", my father cried out. We started to follow them, the crewman pushed us back. "Prima loro", one of the crewman said, "First them". We convinced the other two crewman to go also, he motioned with a wave of his hands to follow them , we did, and we got on the other side of the ship all together. "Stiamo tutti qua Anna, non ti preoccupare (We are all here Anna, don't worry)", my father shouted. We saw my mother and my sister being lowered into the lifeboat, we were to follow. My father had both Mario and Gino clinging to his chest one in each arm. We saw the lifeboat pull away, and we were going to get into the next one right behind it. A crewman took my brother Mario and handed him to another crewman below into the lifeboat. My father with Gino in his arm, started to descend, looked up and saw me and Nicola come down on the other rope, we were all there. In seconds we were all holding each other in the lifeboat, but mom and Maria were gone. My dad started to cry loudly, "I Can't believe it" he said, "I can't believe it." We didn't know where mom and Maria where going, but at least we knew, they were off the Andrea Doria.
From the look of the crewman on the lifeboat, we realized that we were going to be picked up by the Stockholm, the ship that had hit us. We got on the side of the Stockholm twenty minutes later, and were helped on board by crewmen and other passengers of the Andrea Doria that were already there. We were taken into the dining area, looked over by several Officers and crewman, they wanted to make sure we were all OK. After that we were given hot coffee and sweet rolls to eat. We told one of the Officers that my mother and sister were off the Andrea Doria but we didn't know where they were taken, which lifeboats had picked them up.
The Andrea Doria crewman that had helped my brother Mario into the lifeboat was right behind us in the dining room, he came toward my dad and said, "Mi chiamo Luigie. Sono di Palermo. State tutti bene? (my name is Luigi and I'm from Palermo, is everyone OK)". My father hugged him and thanked him for helping us and told him that my mother and my sister had been probably taken to another ship.
It was about five o'clock in the morning and the fog had lifted, we were all out there watching the Andrea Doria doomed with her right side railing only a few feet from the water. Listing more and more on her right side. We still were seeing a few lifeboats in the water. We heard the rumbling of a helicopter approaching us, getting closer and closer. We looked up and he was landing on the top deck of the Stockholm we found out that it was taking a few severely injured passengers to the Hospital in Boston. The Ile de France had taken most of the passengers and had left for New York.
Talking with many crewman and passengers around us we realized that many families were separated, with members being picked up by other ships. We heard a P.A. announcement first in Italian and then in English that Officers of the Andrea Doria were in radio contact with other ships to reunite families. We were going to be asked our names, and a list to be made, so that families would know were the others members were. We were also told that breakfast was being served in the dining room but no one was leaving the top deck of the Stockholm to go below. A second Officer of the Andrea Doria had said that the night before, when the fog rolled in, Captain Piero Calamai had ordered all the water tight doors closed separating the ship in water tight sections. This is when my father started to cry loudly, because he realized that if the water tight doors would have not been ordered closed, we would have all died and the Andrea Doria would have gone down in minutes.
We were alive by a miracle, the Stockholm had rammed into the right side of the Andrea Doria only 18 to 20 cabins ahead of us, the water tight door in the corridor by the staircase had held back millions of gallons of water from inundating our entire right side of the ship. The few inches of water we walked into going up to the top deck would have been ten feet, killing us all instantly. The Stockholm could have have rammed into our cabins instead of cabins 420 to cabin 435, the Sergio's were right below us in cabin 656. Were they alive? We didn't know. The other Sergio family was located also on the C deck, in the rear of the Andrea Doria. The millions of gallons of water had flooded the entire engine room and the empty fuel and water tanks but the watertight doors had saved our lives and /the lives of hundreds of passengers. We had time to leave the ship, we had many hours to get into the lifeboats and been picked up, all this would have been different if we would have drowned and gone down to the bottom of the ocean with the Andrea Doria.

The Sinking
The Andrea Doria was out there in front of us rolling in the Atlantic ocean more and more until she was completely on her right side with the smoke stack in the water, we could see debris everywhere. The lifeboats on her left side, intact still attached to her deck, the bow was visibly deepening into the water now, she was going bow first. After about 20 minutes later the stern side lifted out of the water and we could see her propeller coming out of the ocean, then little by little she went down in front of us. Everyone was crying, it was impossible to see a beautiful ship like that sink to the bottom of the Atlantic, taking with her many passengers and crewmen to their death. We all had our hands over our faces, we didn't want to see anymore, shocked was not the word for it. It was impossible to even think that she was gone forever.
We were on the deck for another hour before we went down to the Stockholm's dining room to get something to eat, it was about noon. We hadn't sleep and we were hungry. As we got to the dining room there was food all over the floor, we found out that a fight had broken out between the passengers of the Andrea Doria and Stockholm's crew. We were told that few passengers from Sicily had found the waiter's linen and uniform closets and they had taken practically all the white pants and shirts and were passing them on to others that were still half naked, like us, still in underwear. The Stockholm's crew didn't want the uniforms to be taken. Officers on both sides intervened and we were allowed to take all the white uniforms. At this time many Stockholm passengers were among us and were giving their clothing to the ones who needed them. My father got a ladies sweater which he wore to New York, we all received a few shorts and shirts, but Gino was still in his little underwear. We got a pair of socks and put them on his feet. We sat down to eat, while the P.A. announcer, an officer from the Andrea Doria, started to call out last names to reunite families. We were hoping to hear of my mother and my sister, if they were OK and if they were told that we were all safe.

On to New York
We started heading to New York very slowly, we were cruising at less than ten knots, the Stockholm had lost the entire icebreaker bow and had only two watertight doors left in the bow area. They told us that several crewman had died in their sleep in the bow crewman's cabins. We heard hundreds of names and not a word of my mother and my sister until about 2:30 in the afternoon. We finally got the news we were waiting for, the P.A. announcer said "De Girolamo family of seven from Ischia, Anna De Girolamo and Maria Rosaria De Girolamo picked up by the Ile de France lifeboats have arrived safe in New York last night and reunited with family members there. Francesco, Antonio, Nicola, Mario and Gino De Girolamo are here on the Stockholm safe, family in New York has been notified". Then he repeated the announcement in English. The smiles of joy were on our faces, we hugged each other tightly and kissed each other. Mom and Maria were OK and they knew that we were all on the Stockholm together. We wanted to make sure and asked where the P. A. announcement was made from, we needed to know for sure. We wanted to see the list and be told the second time. We found the location were the announcer was, with several Officers seated at a desk in one of the lounges. We approached the desk, and my father asked the senior Officer several times, "did you say Anna De Girolamo and Maria Rosaria De Girolamo are in New York already having been picked up by the Ile De France? Are they OK?" , "Yes Signor De Girolamo", the Officer said."Your wife and daughter are in New York. You have a sister-in-law by the name of Raffaella Califano?", he asked my father, "Yes" my father told him with tears in his eyes, "That's my wife's sister". "Well" the Officer said "They were off the Ile de France and in New York at your sister-in-laws house and we notified them that you are all together here, you and the fours boys". My father reached over the desk and hugged the Officers. We had all made it, and were all ok. "Are you sure?" my father continued to ask, "Are you sure ????" "Yes Signor De Girolamo, we can also tell you that your wife needed medical attention and has second degree burns in the middle of her hands, the rope of the Andrea Doria burned her hands on the way down into the lifeboat." "But she is OK?" my father asked him for the last time, "Yes Signore De Girolamo, your wife and your daughter are already in New York".
We didn't see any of the Sergios on the Stockholm, who knows what had happened to them on the deck below us. Someone had said that many down there never had a chance to get out. All this time and my father never realized that he had slipped on the pants he wanted to wear on his arrival to New York. I didn't know which one it was, they were all a kind of gray blue colors, he put his hand in his pockets and he found the money he had put aside for his arrival to New York. About $800.00 dollars, he couldn't believe it, it was another miracle. We passed that afternoon on the deck of the Stockholm dozing off for long time, we always kept my younger brothers with us. We were tired but somewhat very happy that the Lord had spared all of us. Many families had members missing and most likely had gone down to the bottom of the ocean with the. The Stockholm was cruising toward New York very slowly, flanked by several American Navy ships. We fond out that at the speed we were going we would reach New York and Pier 97 of the Swedish Line late afternoon the next day. We really didn't care when we got to New York as long as we would arrive. My mother and sister had already been there a whole day and were waiting for us to arrive.
My dad told me that Gino, who was four years old, told him "Papa, non avere paura. Io so nuotare (Dad, don't worry about me. I can swim) after he looked into his father's worried face after descending the rope to the lifeboat. I had not heard Gino said that, I was behind them descending the rope. It was really a surprise about Gino, he was trying to calm down my father. We returned to the ship's dining room about seven P.M. for dinner, and they really treated us very well this time. The Stockholm crewman were very nice to us. After dinner we returned to the lounge chairs on deck and we spent the night, wrapped up in blankets, like most of the others.

New York Arrival
We woke up the next morning early, as soon as dawn broke. The light of the sun woke us up and we saw land and a lighthouse. We were passing the tip of Long Island and Montauk Point. We were still escorted by many ships, now they were more, even little white pleasure crafts started to come around us. It seemed like an eternity before we would see the Statue of Liberty and New York Harbor, we had eight more hours at sea before docking at Pier 97, which was located about 58th Street almost the last pier of the New York Harbor.
It was a little after three P.M. that we passed by the Statue of Liberty and Ellis Island, and going up the Hudson River to the Swedish Line Pier. At the right side of us was the empty pier where the Andrea Doria should have docked, fireboats were flanking us and shooting water in the air, boats sounding their horn, two tug boats came to our side guiding us into the right turn and into the pier. It was a little before 4:OO P.M.
We started to get off the ship holding hands, my father still with the lady passenger sweater on him. We were helped down by policeman and other port personnel. They took us into a large room first, it was set up like a hospital, with doctors and nurses. Most of them spoke Italian. They visited us one by one, my brother Nicola had a little scratch on his little finger, they put some disinfectants and band aids on it. We were fine, just very shocked. They asked if we wanted any tranquilizers, or relaxing drugs, we said no. My father said, "Vogliamo andare a casa (we want to go home)" . They took us into the second room, and took down all kinds of Information for immigration, check names and addresses, relatives in New York, etc. They were to send us another set of documents from Washington D.C. Immigration Department. They gave us coffee and sweet rolls, my father asked "Where are our families, my wife my daughter". One of the port guards, said "As soon as you get released from here we will call your family members outside". They walked us back into the open pier area, they had many rescue organizations, American Red Cross, Salvation Army, Catholic Relief Service. A large man came toward us, I didn't know who he was, but he hugged my father and called him uncle Ciccio. It was my cousin Frank, my Dad recognized him from pictures. He told us in broken Italian that mom and Maria were over his house, they were too emotional to come down to the pier, after this we will go home.
We were interviewed by news and U.P.I. people, they were asking questions while my cousin translated in Italian to us, as we were getting dressed, picking up clothing from the Red Cross, the people from the Catholic Relief Service approached us. In correct Italian knew who we were, and called my father Signor Francesco De Girolamo. When we had purchased out tickets in Naples, my uncle Monsignor Antonio had given our names to the Agency for possible assistance in New York. They were there asking us to go to the office on fifth avenue if we needed money, loans or any financial help with no interest. My dad took all the information and the envelope with all the explanation, and said "Grazie tanto (Thank You Very Much)". We saw a team of newsman coming toward us again with a TV camera, one of the reporters asked my father, "Out the entire ordeal, the anxiety of not knowing where you wife and daughter are, and the worry not to make it. What was the one thing that stood out of in your mind out of the whole thing". He stopped for a second, then he told the newsman, "Mio figlio Gino, dopo che siamo scesi nella shialuppa mi ha detto, Papa non avere paura. Io so nuotare". The newsman looking at my cousin Frank, remained astounded when my cousin told him in English, "My uncle Frank said that when they had reached the lifeboats, the kid looking at his father's worried face told him. Dad don't worry, I can swim".
They gave us a shopping bag each to pick up any extra clothing we wanted, we took some extra shirts and socks, some jackets and quite of few pairs of shoes, especially for my two younger brothers. We walked toward the exit to the street, and we said goodbye to several passengers. Wished each other good luck, and left the pier. My cousin Mary and her husband Charley were waiting outside, we hugged each other, and walked to the two cars parked outside. We were on 12th Ave and 46th street, we only had a few blocks to go. Our apartment was on 450 west 47th St.
We got there in few minutes, my mother was looking down from the third floor apartment when she saw us coming out of the car. She screamed "Ciccillo, Cicillo mio, come stai (Frank, my Frank how are you)". My father started to cry, I couldn't hold my tears any longer, I started to cry. We were finally all OK and all together again. We had made it unhurt from the worst sea disaster. We were alive by a miracle.
We ran upstairs to hug my mom and Maria Rosaria, my aunt Raffaella was crying loudly. We held each other for a long time together in a circle. My mother took Gino and held him tight, the poor kid had no idea what we had gone through. My other cousin Luisa and her husband came upstairs, they were down at the fruit store around the corner. Then my uncle Gaetano came up, he had closed the store a little early to come see us. We talked for hours about all we went through. We realized that my mother and my sister had new dresses on. My aunt Raffaella had taken them to a store on 9th Ave and got them some clothing after they had calmed down quite a bit, and had stopped screaming from nerves and also joy. My father put his hand in his pockets and pulled out the money, my mother said "where did you get that??" My father told her that he found it in his pocket on the Stockholm. "When we left our cabin I put my pants on in a hurry. I put on my pants that I had prepared for the arrival in New York. I was sleeping with the other one on all night. I don't remember that I had taken it off because they were almost the same color". Well we got more then $800.00.
"It was Santa Anna that saved us" my mother said, "I'm going to have a Mass said every year on July 26".
We made several phone calls that evening to Ischia, and to California letting everybody know we were all OK. My aunt from California said that they saw my mother on T V coming off the Ile de France waving a handkerchief and being helped out by two other ladies. She still had little bandages on her hands, but the rope burns were not bothering her at all. She said, "When we separated, I wanted to die".
We were in New York, all safe and unhurt. Now we had to start our lives all over again, but we were alive. Others had not made it.
Editor's Note: Maria Sergio and her children were one deck below and in the direct line of the collision. They all perished in their cabin.