Grillo Family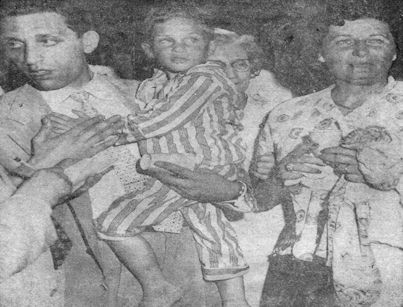 Herald Tribune photo by James Kavallines: Mr. and Mrs. Carmelo Grillo of 1106 Ave. X, Brooklyn. Mr. Grillo is holding his son, Anthony, three. They told of their harrowing experience on the Andrea Doria.
"A Mother's Story"
Angela Grillo
For years I have rejected the idea of thinking about my experience at sea in 1956, and after 43 years I am now convinced and believe it was our "destiny.

My three year old son Anthony and myself left New York March 1956 aboard the T/v Cristoforo Colombo, sister ship of the Andrea Doria. We were scheduled for a return trip from Naples around the middle of August. After a four month stay in Italy, I felt nostalgic for my home in Brooklyn and I requested my husband in New York to reschedule the trip for an earlier return on the Andrea Doria. The trip was rescheduled for a July 18, 1956 departure. This would have been the completion of my sixth transatlantic crossing and the second for Anthony. We had a very nice visit with the paternal grandparents in Catania, Sicily. To complete the visit, a brief and beautiful trip on land was arranged by my father-in-law Antonino. We visited Rome and the Vatican, Sorrento and Napoli.

My husband "recommended" not to surrender the baggage the night prior to arrival in New York, with a quick formality with the port authorities, he worked for the Italian Line, we would reach home faster. As planned, the luggage stayed in the cabin which was located on the portside of the Upper deck. Around 11:10 p.m. we were awakened by a loud crash with a "quasi"sudden list of the ship. The loose furniture and luggage piled up against the door and it took twenty agonizing minutes in the dark to free the cabin door. The list was already such that reaching the muster place on Boat deck became an almost impossible task. We crawled across the deck on our hands and knees. People were screaming, yelling, pushing, and searching for HELP. It was dark and by pure coincidence we happened to be near our dining room companions, a senior couple from Pescara, Italy, named Rigoletto and Anna DiMeo. Rigoletto worked for the very important Agenzia di Montecatini in Italy. Together we were able to comfort each other and help me with my young son in my arms.

It seemed an eternity before we saw the search lights of the rescue ships. We were asking each other, "would they reach us on time"? The time came for Anthony to be dropped into a blanket held by the crew of a lifeboat and when it was my turn to go down a rope, the lifeboat containing Anthony had moved on and I found myself in a different one. I remember a deep sense of fear, losing my son, not knowing of his fate. I was nearly insane. It took two or more hours with the help of a young Italian man to find him on the Ile de France. He was sitting on a deck lounge chair munching an orange. Thank God, safe and together again. From his questions I could see that on the other hand, he was having the time of his life. He thought it was some kind of a new game.

We were on our way to New York and near the Ambrose Lightship, the U.S. Coast Guard personnel boarded the Ile de France. My husband was with them in the capacity of representative of the Italian Line (He was a former officer on board for them and then working in their passengers' department in Manhattan) A happy, super happy surprise to encounter him on the promenade deck of the Ile de France and super touching when Anthony, embracing him, exclaimed affectionately "Daddy, please don't leave me"!

I made four more crossings after that to Italy, in 1960 and 1965 and many Caribbean cruises aboard Italian ships like Michelangelo etc...

"A Recollection"
Carmelo Grillo
A day to remember: On the night of July 25th, 1956 I went to bed around 10 p.m. As part of my job, I had to get up early, around 5 a.m. and drive from Brooklyn to Battery Park in Manhattan, in order to board the U.S. Coast Guard Cutter to meet the incoming ship, the T/V Andrea Doria arriving from Italy with about 1200 passengers. The Italian Line was located at 24 State Street in lower Manhattan and I was the Assistant Manager of the Cabin Class Passenger Department in addition to assisting the Landing Department
In the years 1949 and 1950, after graduating from nautical college in Italy, I had worked as a ship officer aboard other transatlantic ships of the same company, like the T/V Conte Biancamano, a 25,000 ton vessel and the 1949 flagship of the "Societa Italia" of Genoa, Italy. In 1950 I met my wife Angela who was travelling as a passenger, and once married, decided to make our home in Brooklyn. We lived near Ocean Parkway and Sheepshead Bay and I continued to work for the "Societa Italia" known in the United States as the "Italian Line".
In March 1956, my wife Angela and our three year old son Anthony, sailed aboard the T/V Cristoforo Colombo for a summer vacation in Italy. Their final destination was Catania, Sicily. My parents, Antonino and Rosa wanted to meet Anthony, their first American born grandson. Regretfully my work commitments in New York prevented me from going with them. It was July 17th and the vacation in Italy was over. In Naples, Angela and Anthony boarded the T/V Andrea Doria and settled in stateroom U-147 on the stern portside of the ship. Scheduled arrival in New York was July 26th.
It was about 1 a.m. of July 26th when I was awakened by a telephone call from Irma Colombin, secretary to Dr. Giuseppe Ali, our General Manager in the U.S. for the Italian Line. When Irma realized I was unaware of the developing bad news, she apologized by telling me she had dialed the wrong person on her contact list. About 15 minutes later I received another call, this time it was from Mr. Costa, our landing agent who I assisted at least 3 times a week for the arrival of our ships, who bluntly told me to meet him as soon as possible at the office in Manhattan. He told me we had a serious problem, it appears that around 11:30 p.m. the Andrea Doria has collided in open sea with another ship, the Swedish Stockholm, near Nantucket. What a shock! To try to hear the news on the radio I turned the knob on the kitchen stove, I was not shocked, I was super shocked! I drove my brand new 1956 Ford Victoria on the Belt Parkway at 75 to 80 miles per hour, I wanted to "fly" to Battery Park. The policeman that stopped me to give me a ticket listened to my story and with his seeing my credentials became very sympathetic and escorted me to the entrance of the Brooklyn Battery Tunnel and wished me good luck. The time I spent between 2:30 and 5:30 a.m. in the office was agonizing. On the second floor we had teletypes which were receiving messages from Captain Fava, manager of our New England Operation in Boston, MA. My knowledge of teletype operation acquired in the Italian Military Service a few years earlier became helpful and kept my mind occupied. I could read of Captain Calamai asking for help, needing about 6 tugboats in order to pull the sinking ship to nearby shallow waters. However tugboats are powerful but slow in speed, they would never make it in time. It was agonizing for me to learn of it first hand. I had to stay busy, I needed to prepare and copy the list of incoming passengers for our staff who needed to be prepared to handle the frantic telephone calls from relatives.
Now it is 10:10 a.m. and the radio announces the sinking of the Andrea Doria. Did I know the fate of my wife and son? Only the next day did we learn that Captain Piero Calamai left the ship only a few minutes before it sank, thanks to the convincing efforts of Second Officer, Captain Guido Badano, who I saw again in 1996 for the 40th Anniversary Andrea Doria Reunion held at the U.S. Merchant Marine Academy in Kings Point, Long Island. It is now 12 noon and the news tells us that a few ships, the French liner Ile de France and the Navy ship Cape Ann, have picked up hundreds of survivors. Even the Swedish Stockholm, with her heavily damaged bow, had picked up survivors and were steaming towards New York.
The Ile de France was scheduled to arrive at 4 p.m., therefore Mr. Costa, his assistants and myself, boarded the Coast Guard Cutter to sail for the Ambrose Light rendezvous. At 2 p.m. we start seeing the ship sailing westward. As we approached the Ile De France to board, suddenly a loud call of my name comes from the ship saying: "Grillo, your wife and son are here!". It came from a former colleague of mine from the Conte Biancamano, now an officer on the Andrea Doria. Thank God, what a relief! Once we boarded the Ile de France I began searching for my loved ones. Yes! There they are, sitting on deck chairs by the 1st Class swimming pool, in pajamas and covered by blankets supplied by the crew of the Ile de France. I vividly remember the encounter and my son hugging and saying, "Daddy, please don't leave me!".
We now reach the French Line's Pier 88 where thousands of people came to meet the ship and find out about their loved ones. My wife, age 29 at the time, was interviewed by a reporter of "The Herald Tribune" as well as by an Italian reporter working for ANSA. Articles were published with pictures in the U.S. daily newspapers as well as in the Italian newspapers in Italy.
The above recollections have been kept "private" and never divulged until now. It is a recollection of "One Day" July 26th, 1956, 42 years ago, by a husband and father of two survivors of a magnificent ship.


Recollections of a 3 year old
Anthony Grillo
I have no recollection up to the point of the collision, and according to my mother we were awoken by the collision.

I recall walking on a slanted deck in the dark and being dropped off the ship into a lifeboat. Due to the list of the ship the port lifeboats were useless and the starboard lifeboats were to far away from the ship to be boarded. A blanket was used to catch me. By the time my mother was ready to board, my lifeboat had moved on. I was now separated from my mother and brought to the steamship Ile deFrance. On the Ile de France I have memories of sitting in a deck lounge chair eating an orange. In a frantic two and a half hour search, my mother eventually found me.

Unfortunately I have no other memories of this event.